Old D 50th Celebration
Dear Old Delphinians
Dolphin celebrated its 50th Anniversary on 5th December 2020 and it was wonderful to see so many of you on our zoom call. Now we are hoping that you can celebrate in person with us.
Please join us with your partners, children and parents on Sunday 3rd July 2022 in my garden and urge your classmate to attend. Please bring a picnic lunch. You will be invited to tour our fabulous new eco Heather Brough Pavilion built around the pond with its wonderful library (with real books), art studio, music room as well as two other classrooms and a viewing platform. You will also be given a copy of the latest Delphic Oracle. Bubbly served. Please plan to arrive about noon and stay as late as you like. There will be covered areas in the garden and some tables and chairs and babies can use the house. I would appreciate knowing your approximate numbers nearer the time. (oldd@opheliafollett.co.uk or ophelia@opheliafollett.com).
We originally planned this event for July 2020 with elaborate plans including a cricket match, a play and music but we were still under restrictions and had to cancel it. In 2021 we decided to make it simple, just 'show up with your picnic'. We had over 150 of you originally planning to come but at the last minute numbers were cut to 30 as 'Freedom Day' was moved a month later. However we still had a wonderful day with nearly 100 (despite some rain) with shifts of 30, having asked everyone to leave their family members at home. THIS YEAR at last we hope to properly celebrate.
Dolphin School is no longer able to contact you unless you have gone onto its website (www.dolphinschool.com) and ticked the alumni section and signed up. Once you do this you will receive letters, announcements and pdf's of The Oracle.
'Ophelia with Dolphins from its first decade'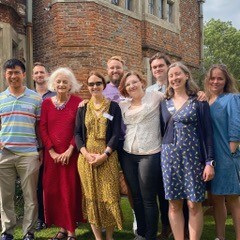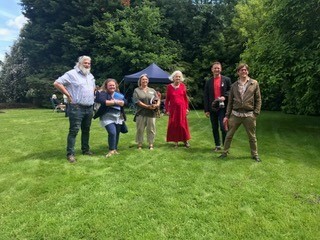 Looking forward to seeing you.

Ophelia
PS. After twelve issues of the Delphic Oracle I am putting down my pen. My final two issues are heavily Old D centred and full of old archives. I will continue for a while as the Old D link.