3 Feb
I love a story … I especially love hearing other peoples' stories, anecdotes, tales. I suppose I could be considered nosy, but I prefer to think of it as 'interested'.
I love accents and anything from another place, be it another country far across the other side of the world, or from our own. I also love a performance, watching a person or group 'put it out there' and create a narrative that I can join them with.
I love the objects we connect with the story, whether they are our own or the promise, the glimpse of that other place or the tangible 'thing' that connects us to that escape to another time, place and adventure.
One of the many pleasures I have, personally and professionally, from teaching English at Dolphin is the freedom to be immersed in a whole story and journey through it with that year's students. It's never quite the same journey even though the book is the same. I know I will always want to start that journey again through the wonderful novels 'Carrie's War, 'The Iron Man' and 'The Midnight Fox' to name a few, and that the students and I will travel through it together.
Storytelling is a different skill, a much harder one. Professional Story tellers spin their story webs with a talent that takes years, if not decades to perfect. The story is told without a book to read from and usually the storyteller remains seated, using their voice and a few simple objects/props to help paint the picture in the mind of their audience.
Paul Jackson (Chair of the Society for Storytelling) visited us at Dolphin Book Festival last year. All who listened appreciated the magical experience.
This week it is the National Story telling week. To launch this in the Assembly on 29th January, Adam Hurst and I had planned to tell the story of Ali Baba and the Forty Thieves, roping Lewis in for the ride (quite literally as it turned out). I chose the story – it is one of the stories I know very well as my Father told it to me – and we constructed a simple plot. It has its heritage in the 1001 Arabian Nights Tales and I just love the stories.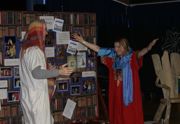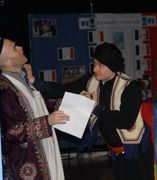 I borrowed a few props – asking parents and teacher friends. Story telling is always an organic and spontaneous activity. In the time it took me to grab a coffee Adam and Lewis had collected a hobby horse and a large padded cylindrical piece of PE equipment. It was the cave and oil jars – what else? Our story finished with Lewis (robber captain) being pushed out of the city walls (across the Hall), by Ai Baba and Morgiana, never to be seen again. The story had changed in the hands of our enterprising Head and PE teacher – but was the better and much more exciting for it, as the response of our audience testified.
This week we will be experimenting with telling stories and I hope you will join us. It doesn't matter if you don't think you know all the words or the plot – make it up! Change it, make it your own. Your children will love it. As I can testify, and my colleagues will agree, they are the most appreciative and generous audience.
I will be telling/reading 'The story of Frog Belly Rat Bone' for the younger children from 3.05om- 3.35pm on Monday in the Hall. Please come and join me. This will be repeated for Year 2 later in the week during the school day as they are back later today.
Following that at 3.30-4.30pm I will run a workshop based around the Anansi Stories and we will watch on DVD the amazing Katrice Horsley (a former Story telling Laureate) read her version. All year groups are welcome – the stories are aimed at Years 2 and above.
On Thursday Mr de Souza will read a selection of Revolting Rhymes by Roald Dahl at 3.30-4.00 in the History room.
During the week we will take as many opportunities to tell a tale as we can. Judy Seall, our Head of Drama, will be reading stories to the Lower School and our Languages Department will be telling tales in other languages.
If you would like to come in as you have a story you would like to tell, please let us know.
I hope this week you can find space to sit down, cuddle up and tell that tale. It could be one that your child is re-telling to their own children one day. Hope so!
Emma Tate
English Teacher Years 3-5 Dolphin School
Paul Jackson and the Society for Story telling:
Katrice Horsley:
https://sfs.org.uk/events/katrice-horsley-my-journey-here-stafford-knot-storytelling-club