14 Feb
Library Blog - Year 6 on a Blind Date with a Book!
Back
Last week it was story telling for the whole school.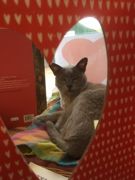 This week, in celebration of Valentine's Day, Year 6 enjoyed 'a Blind Date.. with a book'. Once the choosing and unwrapping had been done, the whole class promised to make a really good effort to read their chosen book. We look forward to the feed back. …
Next up, World Book Day on Thursday 5th March. In honour of our 50th Anniversary, the Dolphin School theme this year will be 'Books with numbers in the title!' or 'Numerate Literature!' Hopefully, the Half Term break will give you all time to design your amazing costumes!
Happy Half Term Reading and Happy Valentine's Day.